Unexpected adventures
Its been a quiet month / 6 Weeks (by my standards at least!) although as I sit and type I realise it has been full of little bits and some unexpected adventures. Winter is tough for me. Shorts are no longer an option (because I'm not a postman) and pulling up trousers is hard on my own, tucking in shirts.. impossible, jumpers get stuck around my chest and I can't put gloves on by myself. I've been outside my hands get really cold and useless which makes emergency toilet trips a 2 man job! So if you see me struggling, please offer your help. Other than that, I quite like winter and Christmas with Freddie this year will be magical.
Cover photo by Rob Wheatman
Its all good fun till someone gets hurt
In a continuation of our hotly contested annual golf competition at a private members course in Wimbledon (that boasts Ant & Dec as members no less). Amazingly after 18 holes we ended in a draw. Unfortunately 18 holes is too much for me and despite having a buggy by the 16th hole I was exhausted. Needing to hit the ball 100 yards just to reach the water Matt goaded me into smashing the ball. I refer to it as a swing and a miss, either way I ended up on the floor landing on my already knackered shoulder. It still hurts today and I hope that is not the last round of golf I play.
Just for good measure, the following week while at a holiday park with my brother and his family, my efforts at trying to be a 'good Dad' ended up with me falling backwards in a kids soft play as I didn't quite have enough strength in my legs. Shoulder made a little worse.
Radio Gaga
Steve Kitchen of BBC Radio Glos came round to interview more ahead of the Charity rugby day. Like most people you think your voice sounds weird, even more so when you listen and hear slurred words. There is now hiding the fact that my speech is deteriorating, I can but hope that I don't lose it completely and that Becky learns to translate my mumbles.
Another year older
I turned 43 last month and I'm not really a big celebrator, although they do have a little more meaning now and it was wonderful to be able to spend the day with Becky and Freddie. Any time spent with my little boy is just so precious, I just hope they make as much of an impression on him as they do to me. My darkest fear is that he won't remember me, it hits me every, single, day.
As a pre-birthday gift Becky, The Mudway's and Tomlin's had arranged to go and see Neil Diamond in Birmingham (who doesn't love a bit of 'Sweet Caroline'). Becky did a wonderful job of keeping it a secret even though Squirt had accidentally let it slip that morning – I'm fairly certain he is still in the doghouse !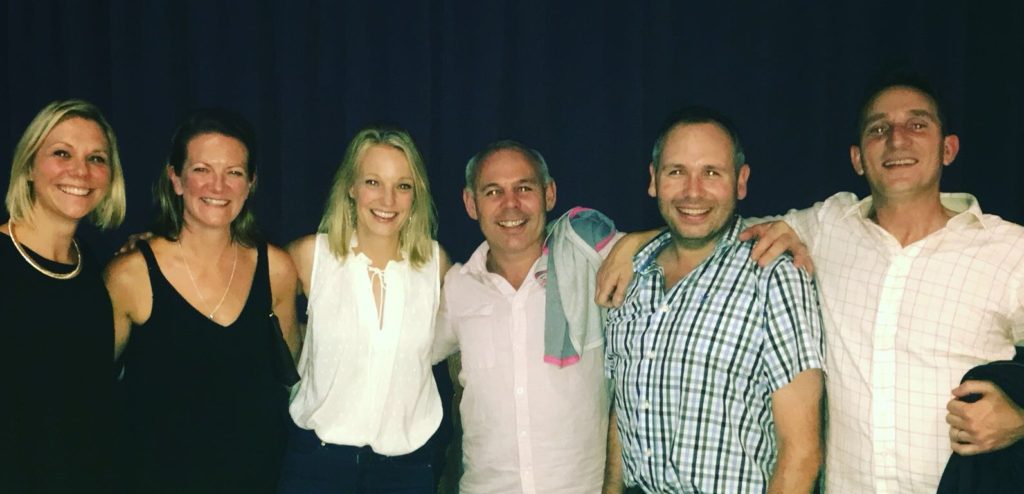 My birthday celebrations continued with a trip to London. Lunch at a swanky Michelin restaurant in Belgravia then a tour of buildings with rooftop bars (which seem to be my new obsession). Exhausting but it was great for Becky and I to spend some time together before her work goes crazy (Autumn Internationals).
Order, Order Mr Speaker
The MND Association held a parliamentary reception to raise awareness for the MND Costs campaign. They estimate that a family with MND can incur additional costs of £12,000 – I am certainly starting to feel the pinch, not least because my ability to work 'full time' has diminished. I invited my local MP Alex Chalk and was delighted to hear that he attended. I also went to University with James Cleverley (MP for Braintree) and I think his friendship with Alex may have encouraged his attendance. Unfortunately places at the reception were very limited and I was unable to attend, however I have subsequently been contacted by Alex's team with a view to arranging a meeting… Watch this space.
Off the back of this Steve Kitchen invited me back on a few weeks later to do a live piece discussing MND Costs. Nerve raking but enjoyable. I was contacted by someone from MND to thank me and to say that they had played it back to people at their committee meeting.
Schools Out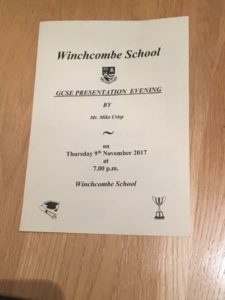 My old PE teacher (now Winchcombe School Headmaster) Neil Hall contacted me after a brief catch up at the charity rugby day and invited me to be the guest speaker at my old school for the GCSE prize giving evening. I happily accepted actually enjoyed watching a few youtube speeches for inspiration. In the end though I realised I was neither successful nor qualified enough to share my wisdom. Instead I thought about what I would say to Freddie at that age (16-17). I was extremely nervous which surprised me because I'm used to talking in public, there must be something more intimidating about teenagers ! Several parents, staff and even a couple of pupils came up to thank me afterwards, so I'm glad I did it.
AN MND Update
Another of the NHS services I have been introduced to is Speech & language therapy. To be honest I haven't got much from it apart from a sheet of phrases to practice saying. I also got a biscuit so they could check my swallow. Every cloud and all that.
My balance is, how do I put this…. all over the shop. Walking up and down stairs can quite frankly be dangerous. I normally bounce off the walls as I walk up and come down stairs very slowly. Sometimes my feet can be slow to catch up with the rest of my body and I've had a few close calls.
Stiffness and cramp in my legs means I walk a bit like Bambi on ice when I wake up. It improves gradually but becomes very stiff after I have been sitting. I am very conscious of it as I walk down the street or in a shop. I have to concentrate on each step and I'm certain people have looked at me and thought "He's pissed" on several occasions.
My shoulders are very weak which makes typing, eating and dressing very difficult and tiring. My left hand is almost useless, with very little grip and it quivers when I try to use it. I've also recently developed an annoying twitch in my index finger of my 'good' hand… I'll go to hit a letter on the keyboard and it will just flip out and type something else.
My new enemy seems to be my throat and sticky saliva. Basically the muscles in the throat don't work as well as they should and swallowing saliva (as we all do involuntarily) isn't always easy. Sometimes a bit goes near the wind pipe of I have a spasm and gag. Id love to record it – the noise I make is like something out of a horror movie. It passes pretty quickly and I'm trying to manage it and understand when and why it happens. Perhaps that Speech & language therapy may come in handy after all.
Complimentary therapy at Sue Ryder – I'm a bit of a sceptic about reflexolgy and energy flow, but I'm trying to remain open-minded about it. If nothing else its an hour every 2 weeks when I can shut off the world and lay on a bed and relax. I don't have to pay so I am extremely grateful for all that they have done.
Fundraising
Cheltenham Half Marathon – 17 of my old school friends (and a few that had to retire injured) signed up, trained, got injured, recovered and ran the half marathon so that I can tick a few things off the bucket list. I was truly lost for words and so grateful for all the effort they put in. Some have caught the bug and signed up to do it again in 2018.
Another friend Amy Gore also took on the solo challenge and raised an incredible amount which was donated straight to MND Gloucestershire and to Freddie's Fund.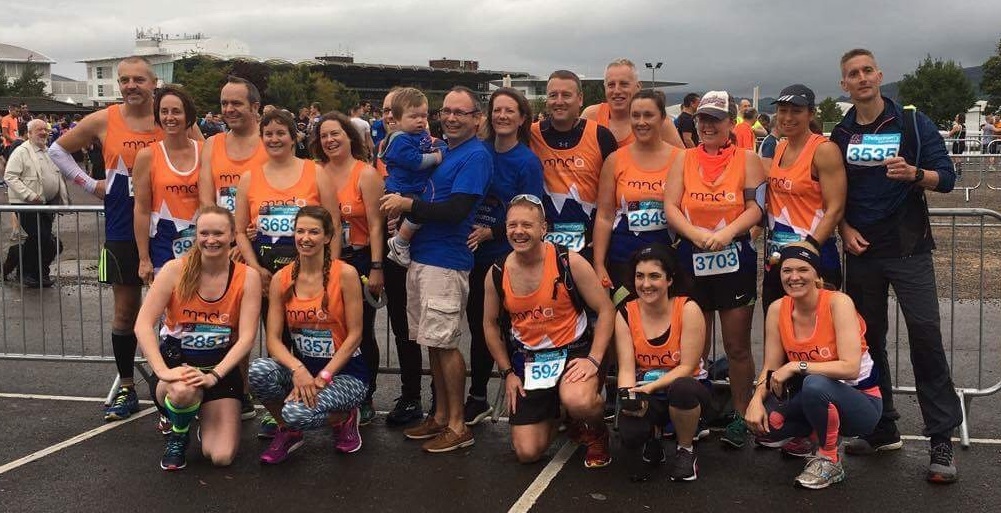 Charity Rugby Day / Laura Hale Testimonial – Despite me being more than a little hungover, the 3 match extravaganza at Cheltenham RFC / Newlands was amazing. So many faces old and new came along to offer their support and raise money for 'The Freddie Fund' and for the MND Association. The highlight of the day must surely be the performance of the drunkest auctioneer ever to hold a mic (thanks Yorky).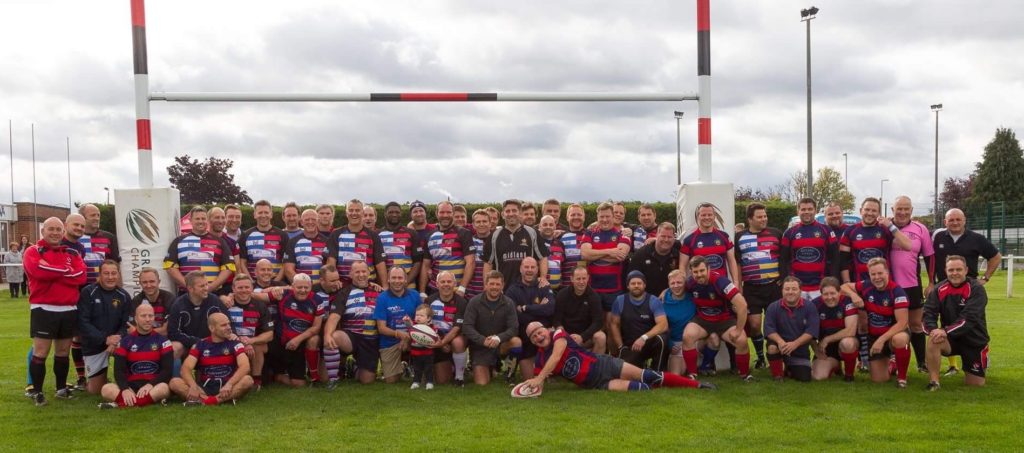 Gloucester 10K – 3 friends who attended the same anti-natal classes as Becky & I (http://thebabyjourney.co.uk/) Lisa, Kate & Chrissy took part in the Gloucester 10K in bitterly cold conditions and raised an amazing £1500+ for MND Gloucestershire
Slipstream – My brother-from-another-mother Liam, his partner Daisy and the rest of the crew of this amazing super yacht Slipstream pooled together a proportion of their hard earned tips and donate to charity. This year they selected MND and PainInThe ALS and for that we are extremely grateful.
Thanks for reading – I'll be back soon.