New Year, New York, New House, New Car
The morning I started writing this blog was one filled with mixed emotions. Firstly happiness as Freddie had slept in till 7.45 and then we had such fun playing with his cars and toys. But then for the first time in a while it hit me as to how a fucking unfair MND is and that my ability to play with my son decreases every week. And while I try to treasure every moment with him, life, work and other everyday crap often gets in the way. That said, it's easy to forget my own worries, when he bumped his head and asked me for a cuddle. I'll take that any day of the week.
As the title of this blog post suggests the past six weeks have been full of newy newness. Exciting times ahead with lots of new challenges to overcome but as ever with me it all starts with a little holiday.
Start spreading the news
Becky's birthday gift from her parents (back in July) was a trip to New York as it is somewhere Becky has always wanted to visit. We had a fantastic time and visited a majority of the main tourist attractions, but my favourite has to be the Empire State Building. Despite the weakness in my legs we still clocked around 9 miles per day and must have seen at least 10,000 Christmas trees. We took in a show on Broadway (Lion King) and a personal highlight was an evening at the ice hockey at Madison Square Gardens, although slightly disappointed there were no punch-ups.  Thanks must go to Becky's Wimbledon 'Buggy boys' who kindly contributed to these bucket list experiences.
On the final day of our trip we took a stroll around Central Park where in true Hollywood fashion I asked Becky to marry me, and I'm pleased to say she said yes! And before you ask no we haven't set a date yet but by the time you know it, it will all have been done.
I always think photos of cities never do it justice – if nothing else this blog should inspire you to get out there and get on with it, go and visit those places you always wanted to go – You never know what's round the corner. That said here are a few of my favourite pics.
New home, New beginnings
As everyone rightly says, moving house is one of the most stressful things you can do. Our house move, while always in the back of our minds, was somewhat forced upon us because of my illness. There was just no way we could adapt our home to accommodate a downstairs bedroom and wet room for me or when the inevitable wheelchair access is required. It took a full seven months, 2 failed completion dates, amazing patience and understanding but we finally got there, moving in to our new house at the start of the year. We have had plans drawn up and fingers crossed they are approved and we can start the development in the next six weeks. It's a huge project, something along the lines of DIY SOS, but it will hopefully give us downstairs wheelchair friendly access with a ground floor bedroom and wet room for me in the months/years to come.
It's safe to say that I won't be moving house again in a hurry (or at all LOL) It is extremely important to me that the home is not just suitable for my needs but provides a beautiful space for Freddie to grow up in and for Becky to enjoy long after I have gone.
There are lots of people to thank but in particular I want to thank Michelle Cook for selling the house so quickly and for chasing our buyer so vociferously. Holly Kennett at Lodders solicitors Cheltenham who was truly our rock during the whole process and without her I'm not sure we would have made it across the line. Also a massive thank you to the lads who gave up their time to help us move (with only a few dents and scratches!!)
Freddie turns 2
Talk about cramming it all in, at the same time as everything else we (as in Becky) managed to arrange a second birthday party for Freddie held at Newlands Park. We had planned for a double-decker bus fitted out in soft play to arrive but it broke down on the morning of the party. Quick thinking by Matt and Hannah Mudway meant that the empty room was soon awash with children's toys, plenty to keep a bunch of two-year-olds occupied for two hours. Then Becky being Becky, put in a call to a friend at the fire service and they duly arrived in a shiny red fire engine so Freddie got to meet a real life Fireman Sam for his birthday. Talk about setting the bar high for next time !
Whose gonna drive you home
My 3 year lease period on my current car came to a happy end in Jan. I'm pleased to say I survived the always nerve-raking inspection and the car passed with flying colours. Thanks to Joe Viall for doing such a great job in repairing the chips, scratches and dents for such an excellent price. I highly recommend Up To Scratch
I'm a creature of habit and through the Motability scheme, I've ordered a new Kia which comes with lots of helpful extras as standard (such as electric handbrake, foot operated boot, automatic dipping headlights), but I am also having some additional aids to help keep me driving for as long as possible. That does however mean (because of my poor planning) that I am without a car for a few weeks).
A new city to visit
I've always said I wanted to visit as many European capital cities as I can, so when my university friends said they wanted to take me away, I jumped at the chance and suggested Madrid. We noticed, quite by coincidence that Real Madrid were playing at home on the weekend we were there. We searched for tickets but they proved far too expensive. As an afterthought I asked my friend Molly Bennett (who knows the right people) to see if he could help. "Leave it with me" he said. Less than 48 hours later he informed me that four tickets would be waiting for us in Madrid. Sceptically, I said thank you and looked forward to the trip
Now here's where it gets a little crazy. As we sat in the airport we noticed that the day of the match had been moved (because of a clash in fixtures) to the Sunday, we were of course due to come home then. We all quickly made the decision to see if we could stay another night and buy new flights home on the Monday, still not really certain if tickets were there. I received a text from Molly's contact to say that Gareth Bale had left for tickets in an envelope with my name on at gate 55. While on a bus tour around the city we noticed that gate 55 was the VIP entrance and so we started to get a little bit excited.
Come match day, when I picked up the tickets we were first overjoyed that our change in flight plan wasn't in vain but were then thrilled as we opened the door to get to our seats to find it was the VIP restaurant. With full hospitality at our services we looked at each other in shock as we quaffed champagne and ate delicious tapas before settling down for the match and what a match it was, an eight goal thriller. I am eternally grateful to Molly, Gareth Bale's agent and Gareth himself for sorting out such an incredible experience for us.
https://www.realmadrid.com/en/vip-area/seasonal-hospitality/seating/puerta-57-restaurant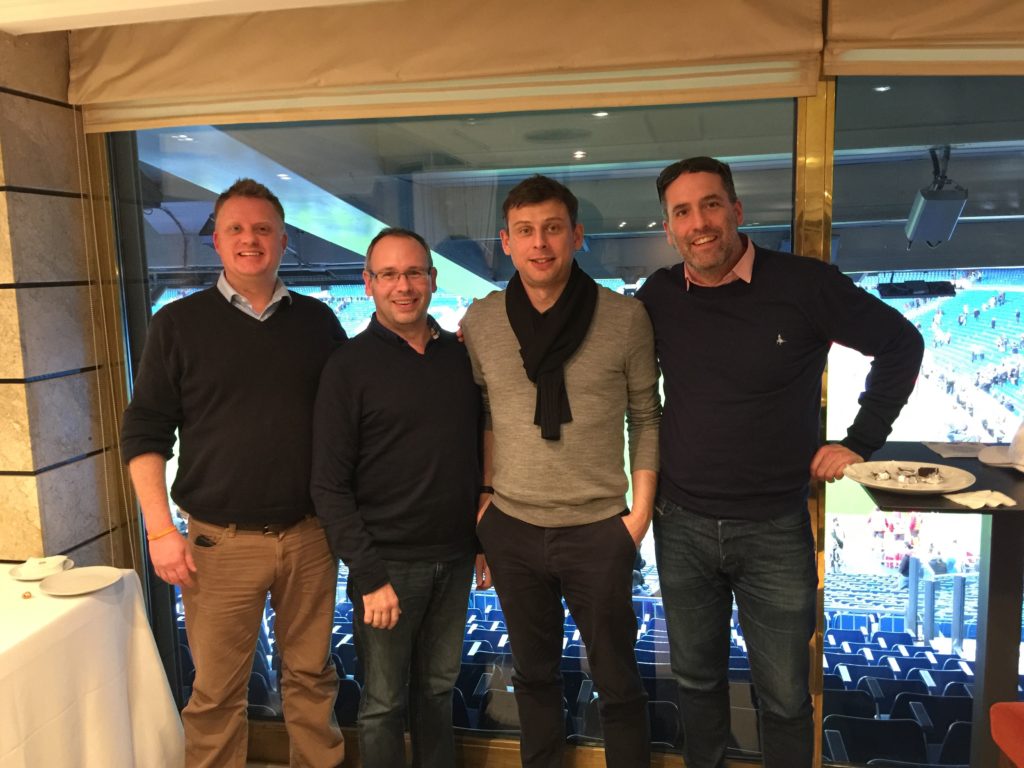 It's good to talk
I was on radio (BBC Gloucestershire) again this month talking about my Twitter takeover on behalf of the MND Association. This basically meant I was in charge of their Twitter account for 12 hours. This was great fun but tiring and I attach my words of wisdom below relating to #livingwithMND.
I also have an appointment arranged with Cheltenham MP Alex Chalk at the start of February to discuss the MND costs campaign and how reassessment for benefits should be scrapped for people with a terminal illness such as myself.
Fundraising
Thanks to Suzie Bloom for organising her ladies curry night which raised over £600 which I intend to put towards my laser surgery unless I can get the NHS to play ball.
Another lady who is fundraising for MND is Svenja Keller who is running Ultra Trail du Mont Blanc – an incredible undertaking, 2 years in the making. Please support her.
My brother in law Lee Moyle is rowing the River Wye please support him here on his Go-fund me page
My lovely friend Jenny Jervis has got her trainers on again and is running something called the Mayhill Massacre on February 4 – you can donate on her Just Giving page
Lastly and by no means least my brother Marc and sister-in-law Jacqui are hosting a masquerade ball near Bridgwater in February. There are still some tables available so if you are interested please get in touch
If you are running any fundraising events please do let me know so I can help you promote them.
MND update
It's still here nagging away at me, my left hand quivers like a lettuce whenever I use it and my right hand has developed an annoying twitch which means I click the mouse even when I don't want to. My speech is a little worse (more so in the evening and after a gin), my walk has become noticeably more awkward and I will soon need a stick to get around (I'm not quite ready for a zimmer just yet.)
Thanks for reading – I'll be back soon.