Entering a new phase with MND
I have entered a new phase of my life with MND. I've now 'had it' for 2yrs 9 months. I'm certainly not early stage and I'm not advanced stage either but I feel like I am in the middle stage, the stage where shit has started to get real. Don't get me wrong, I know it gets a whole lot worse, but a number of things have declined over the last 6 months. I continue to try and make the most of life and my bucketlist slowly keeps going but I'm acutely aware that my happy-go-lucky adventures are over. Every footstep takes careful planning.
It's only my pure stubbornness and perhaps my competitiveness that keeps me walking using my wheeled rollator.  Almost every step I take I feel like I could use my balance and fall over. Even my consultant has warned me to be careful. On top of that my right hand has started to fail which makes using my mouse very hard which in turn makes working and communicating more difficult. Additionally my fingers curl over which makes texting difficult as I can't hit the right key, and even when I use my speech recognition software, it has become Eire Schroon… error strewn.
On a lighter note, I've had a summer with Becky & Freddie making memories and watching my boy become a loveable, cheeky, clever toddler. I find it incredibly frustrating that I can't play with him properly. I can't sit down on the floor with him, I can't pick up jigsaw pieces or bits of train track. Its horrible to see that look of disappointment when i say i cant help him, especially when he is so good at helping me. He pulls me by the hand and says "Come on Daddy, i'll help you"
The last time I wrote a blog post I had just returned from Las Vegas, time to focus on Becky & Freddie. So much has happened that it made writing this very daunting so you'll have to excuse me if I gloss over some events.
Holiday to Crete
After the madness of Las Vegas a family holiday was just what the doctor ordered. Some relaxation and family time and Crete was somewhere we'd never been. We had a wonderful week at a reasonably accessible hotel with an indoor heated indoor pool which, while difficult to get in and out, was great for my muscles.
As seems to be the norm these trips are not without there incidents and on this occasion l had two falls, the first was a gentle sideways thump as I lost my balance , the second was much more dramatic catching my foot, ironically on a disabled ramp and landing on my front cracking a rib and winding me, resulting in a chat with resort doctor!
Freddie was his usual unfazed self and simply asked 'you ok Daddy?'.
Throughout our stay Freddie was amazing, trying all sorts of food, loving the water and being a firm favourite with staff with his smile and manners. I'm so proud of him. Even with my mobility constraints becoming more obvious, we were very comfortable on this holiday and wished we'd stayed longer!
Hot Air Balloon
A Father's Day gift from Freddie in 2017 finally took off! A windy May evening soon settled into a calm voyage over north of the county into Worcestershire. A truly wonderful experience.
I was apprehensive about getting into the basket, but the pilot along with another passenger thought nothing more of just lifting and man-handling me in! I felt a little embarrassed watching everyone put the balloon away, but slightly better as another passenger had a bad knee, so he was also excused. Another bucket list experience was completed with a cold glass of champagne and another memory made!
Thomasland
Freddie's obsession (until Paw Patrol took over) was Thomas the Tank Engine, so as the epic summer continued we took him to Thomas land.
Karen & James Garden Party
Friends Karen & James Radford organised a fantastic afternoon tea party raising money for both MND Gloucestershire and us personally. Everyone enjoyed an afternoon of glorious sunshine, music, cake and cider.
Ed Sheeran
We have tried to make every other Thursday a date night, this one particular date turned into one of epic proportions. Including a nine hour round trip, and getting home at 3am! We made it in time to see him do his set in front of a far more receptive crowd than he had at Glastonbury. Becky managed to get hold of executive seats so we had our own private bar toilets and comfy padded seats.
Foo Fighters
The two words alone should be enough to tell you how awesome this experience was. I first saw them at Glastonbury last year and this time I bought tickets for me and Squirt to see them at the Olympic stadium in Stratford. How would I describe it… loud, awesomely loud. The weekend wasn't without its problems, the train journey was pretty effortless and the taxi ride to downtown, while expensive was fine, when I finally managed to get in! The fire drill after less than half an hour of being in the room was a daunting experience, having to make my way down five floors of stairs one at a time when a lot of so angry staff and residents behind me. Squirt assured me that if it was a real fire he would just have thrown me over his shoulder!
We had a long walk to the stadium despite the cab dropping off as close as we could get but we did have some good fortune. A friend of mine (Steve Freeman) found out we were attending and arranged to supply us with food and beer via a lovely girl called Abi. Quite coincidentally we spoke to another girl called Abi, who had no idea what I was talking about, and then she explained she was in charge of the disabled area which meant, thankfully, we were able to exchange our tickets (which were up in the gods) to much better seats in the disabled section #Result
It was a fantastic weekend although the first time I felt properly disabled as walking was a struggle, stairs a real issue and really made me think twice about going away somewhere.
Freddie in Digger Heaven 
Friends near Stourport own a haulage company (Talbot Transport ) which of course for Freddie meant a chance to ride in diggers, bulldozers and trucks.
Bluestone
Becky, Freddie and l spent a wet family weekend at Bluestone, Pembrokeshire.  It's not quite as isolated as it sounds as we had lunch with Family Watters, bumped into Snapey and arranged to have dinner with Simon and Sian Vickers at their awarding winning Griffin Inn. Freddie had a fantastic time helping me drive the golf buggy, playing in the kids zone and we even enjoyed a family swim. As ever there is always a bit of drama when l underestimated the safety of seated area within the pool and the wave machine almost drowned me #wipeout! Thankfully Becky showed super human strength keeping me afloat with one hand and Freddie the other until two nearby blokes came to my rescue. Thanks for nothing lifeguards!
Ryder Cup
As I've said before one of perks of Becky's job is that she gets invited to various events and as luck would have it an invite to the 2018 Ryder Cup in Paris. Cue the numerous offers to go in Becky's place !
One surprising plus of having MND is that if you travel in a wheelchair (on Eurostar) they treat you like a king.
Front of the queue for security and check in
Free upgrade to business class including lounge access
At least £100 cheaper each way
I shall be travelling there again soon…. as soon as the French sort their riots out!
The event itself was incredible. Such a great atmosphere, if you're into your golf it has to be on your bucket list. Again being disabled gets you into areas/ view points which you just don't get if your legs work!
As if we weren't busy enough….
Not content with working full time, looking after me and Freddie, in the midst of a 6 month house redevelopment, Becky decided she would organise our wedding…. in secret !!
As seems to be standard, the day started with a bit of drama when I decided to test how bouncy the hotel floor was with my face, and if you look carefully at the photos, you'll see the graze.
Fortunately I don't need to write anything because my friend and photographer Rob Wheatman has done it all for us.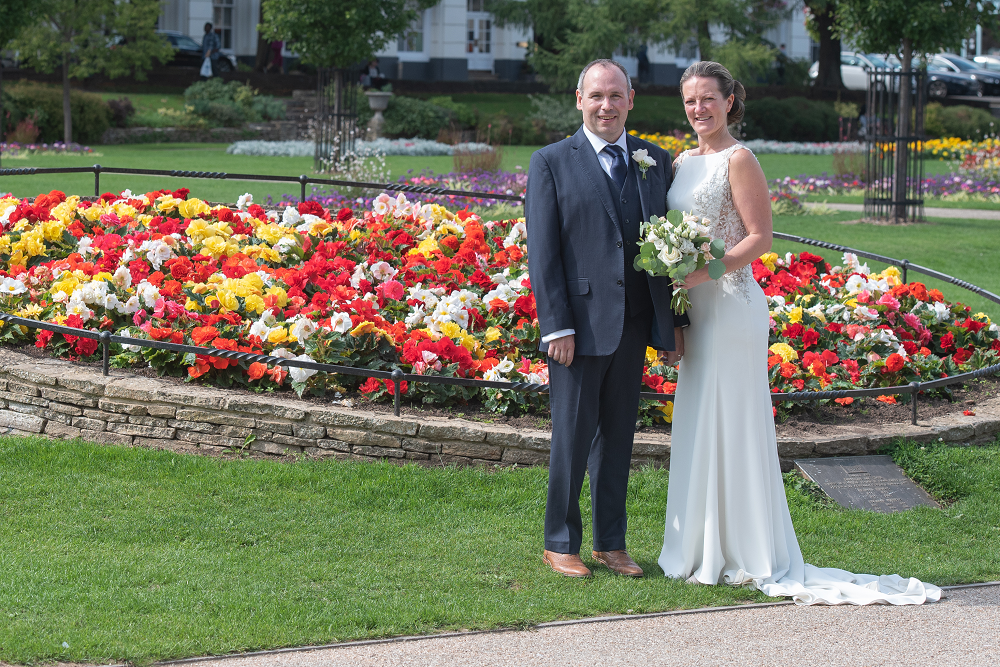 Not a honeymoon but just as sweet
We haven't officially had a traditional honeymoon yet, but we did enjoy 2 nights at Hotel du Vin and 2 nights in Cirencester. We spent our first day as a married couple creating a wedding website to invite friends to a party and putting the finishing touches to the Golf Day (held a week later ). After the golf day and charity rugby match the following day we joined my extended family in Devon for 2 nights before travelling up the coast to Dartmouth, where Paul & Katy Unsworth had given us the use of their caravan.
MND update
So much has happened to me physically over the last 8 months it's easier for me to start at the top and work down.
Head – It itches and I can't reach. Just put yourself in that position the next time you have one and see how insane it drives you. I often resemble Baloo, scratching on anything that sticks out at the right height !
Eyes – I can't reach to wipe them either. Something in my medication makes my tears sting, so yawning and laughing are fraught with danger.
Nose – I can't blow pick or blow. Thankfully Becky is very practised with Freddie! As you can imagine, having a cold is a nightmare for all concerned. I have also lost most of my sense of smell
Mouth – Quite possibly the most complex and serious part of my body to malfunction. My tongue quivers like a leaf and is therefore the root cause of my many issues…
Eating
Various consultants are concerned about my weight as it's vital to my longer term life with MND that I keep as much weight on as possible.  Yes this means as much cake as I can eat. Anything high in fat or  protein is good for me. The problem is is that the process of eating has become difficult, not only from handling the utensils, but chewing and swallowing are hard work.
Swallowing
I don't automatically 'micro swallow' which leads to hyper-salivation (sorry if I spit or dribble on you). It also means I occasionally choke on my excess saliva. Many foods are off the menu because they are just too difficult (beef, lamb stringy veg). Pills are my new nemesis, little buggers just keep coming back up. Solutions have been put in place but I feel like if I give in, MND is winning – and we can't have that can we?
Speech
If you've spoken to me recently you'll know how bad it has become. It gets worse as the day goes on and it can be exhausting  just having a conversation. Becky and Freddie can understand well enough but everyone struggles at times. I still try to converse but often I stay quiet because it's just too frustrating.
Neck & Shoulders  – My neck has never been great and continues to decline. Weirdly I get a lot of cramp when swallowing. My shoulders have lost all muscle and just the weight of my arms causes pain.
Hands – I have long since come to terms with the fact I will eventually need a wheelchair to get about, but have always clung to the hope that I might retain good use of my hands. And while I can still just about use my mouse, everything takes an age and is incredibly frustrating. I have no use of my left hand and sadly my right hand is not much better. I use the side of my thumb to tap the screen and because I have developed a twitch in my thumb I constantly tap the wrong thing. I have started trialling an Eyegaze which is essentially a mouse you control with your eyes. It is incredibly hard to get the hang of, but as I did with my voice banking- I have to be prepared for the worst.
Stomach – Despite a 15kg weight loss over the last year, I'm still rocking a 'Dad Bod'. The only real difference is the foot long plastic tube sticking out (PEG – Percutaneous endoscopic gastrostomy). I'm not using it yet, it's there just in case and is another example of not giving in to MND.
Legs – I took a tumble in the summer and landed teeth first on the pavement and chipped 2 teeth. Worst of all it knocked my confidence and that quickly saw my ability to walk unaided vanish. While I have lost a lot of strength in my legs (cue the piss-taking from anyone I played rugby with ) my main issue is balance. I am still determined to keep walking with my frame, but literally every step I feel I could fall over. Additionally my toes have started to curl over and get sleep-interrupting cramp in my toes, calves and hamstrings.
A good mate (Smithy) gave me his late father's mobility scooter, which while difficult to drive, has given me back some independence. Best of all it lets me play with Freddie again, chasing him on his bike and following him around the playground.
Other than that, I'm fine!
All that  now remains is for me to wish you all a very Merry Christmas. We are really looking forward to a family Christmas in our newly renovated home, spending precious time together. 
I can also confirm my first New Years resolution..to send out regular blogs which will be shorter for you all to read!
Thanks for reading – I'll be back soon.