Throw back to a summer of fun
I started writing this blog 6 months ago with the intention of writing regularly and making life easier for myself.  I failed miserably and for that I apologise. The key thing is to say that 6 months with MND is a long time and so much can and has happened. Crucially I passed my Wheelchair test so I can be let loose on the World and was given a Smartbox communication tablet which quite frankly has revolutionised my life. In fact this blog was written and edited entirely with my eyes !
Cast your mind back to the summer 2019, I was still hobbling around, still able to hold a verbal conversation and managing to eat normally with only the occasional choking incident. Fast forward to the bottom if you only want to read the depressing bits or read on to join in with our summer of fun.
St Mellion – Cornwall 
We umm'd and ahh'd for months about trying to find a suitable holiday for us all. We didn't want to go abroad but wanted something cheap and disability friendly. Clearly looking to torment myself, I chose a golf resort in Cornwall, which was, if I say so myself, perfect. Large room with a decent wet room, car parked right outside with a ramp. Easy access to restaurants and a pool for Becky and Freddie. It's amazing how your accommodation priorities change !
We visited lots of the local villages which if you've never been, I would highly recommend. Looe, Polperro, Fowey and a trip to the beach at Seaton.  We don't do anything spectacular, just spend time as a family, trying to live a normal life. Things that are important to Freddie really put life into perspective. Eye Spy in the car, ice-cream looking out to sea, a bucket and spade on the beach and lego and stories back at the hotel. We arranged to meet friends Nelly, Suzy and Barney Bayliss for fish and chips. They own a pasty shop (Nelly's) in Lostwithial, but unfortunately my days of being able to eat a pasty are far behind me.
As ever, Becky was a total warrior. We don't have any NHS help, something we are trying to rectify. So not only does she get herself ready, then Freddie, then the slog of getting me up washed and dressed. It's no wonder she needs a post holiday holiday. Her record transfers in and out the car was 8 in one day. Think it's easy. Come and have a go.
Barcelona
It's been on my bucket list for ever, so for our anniversary we decided to travel to Barcelona. Now 'normal' couples can visit any website and book a hotel for a great deal. However when you're disabled you have to do a lot of research. Ridiculously many hotels idea of a disabled room includes a bath.
We had a fantastic time using the hop-on tourist bus to get around and even braved the sweaty subway lifts, some of which don't work, leaving you stranded under ground ! At one station we were helped off a train by a security guard only to find that there was no lift. Despite this we found Barcelona to be a very disability friendly city and would recommend it to anyone who needs a wheelchair.
We packed in plenty of tourist hotspots from the fountains to the Ramblas, the cable car to the Sagrada Familia (where as a disabled person you get free, fast tracked access ). We of course left plenty of time for tapas and gin each evening. As it was our 1st anniversary I allowed Becky to push me around the Camp Nou home of Barcelona Football.
Cotswold Wildlife Park
One of summer adventures was a trip to The Cotswold Wildlife Park and marked the first time that we hired a Wheelchair accessible vehicle (WAV).It was a blustery picnic with the Peakes where I learned to develop a zen like control around wasps, but only because I couldn't swat them away. Being in my powered chair gives me such freedom, let's me set the pace, gets people out the way and gives Freddie somewhere to cling on to for a ride.
Gifford Circus
A beautiful summers day was the perfect time to go to the Circus and Freddie absolutely loved it. Despite being in a field it was remarkably disability friendly. Parking was easy and close by, and we were escorted to our front row seats. Perfect. We closed the day with a trip to The Ragged Cot for dinner. I chose whatever came with mash, which in this case was seabass. I was OK  with fish, however I hadn't read the menu thoroughly and it arrived head on with a billion bones. Not ideal for someone who needs to chew everything carefully and is nervous about swallowing food. We live and learn.
Legoland
A treat for Freddie (and secretly Becky) for being such a patient son. He often has to wait until Becky has dealt with me before he gets attention and is quite happy in his own company. Don't get me wrong, he has his moments, but we are so lucky.
We hired a WAV and  booked a 2 day pass and after extensive research Becky found a hotel in Windsor. We enjoyed a fun packed day, with Freddie in his element. The hotel looked great and we checked in and made our way to the room. After the first mile of corridor there was a set of stairs with an out of order lift. Becky went ahead to check the room and call for help. Surprise surprise, despite the call before booking and the confirmation at reception, the wetroom had a bath.
Cue fun and games trying to locate a suitable room, that I could get to. This involved Freddie holding open fire doors and me having to go off-road and over a gravel path to get there at the third attempt. A very late dinner for a tired little boy, and not even a complimentary drink, Freddie was exhausted too !
The second day went off without a hitch but was much busier, being a Saturday, but Freddie loved every second and the model village is well worth the trip for you grown up kids.
Bluestone
We are teased about having shares in the resort but it's such great value and is well set up for disabled guests. It's our third visit and we love it. Freddie is very much at home and with a new covered dome with lots of different areas to play in, he was in his element. We hired a WAV which was almost treble the cost of the holiday ! But it allowed me some independence and Becky some respite from pushing me around. It also allowed some Me and Freddie time as we headed off on a trail to the pool while Becky collected the car. It was only 15 minutes but it happens so rarely it was wonderful. Just chatting and racing each other, Freddie always on hand to help if my arm slips.
We again took the opportunity to visit friends Sian and Simon at the Griffin Inn in Dale where Freddie had his first experience of crabbing, followed by sampling fresh mackerel caught only moments before by a local fisherman.
On the way home we stopped off at Saundersfoot, but after only 10 minutes on a very windswept beach we called it day and headed home but not before one last ice cream stop.
Caribbean cruise
We have been talking about it for ages as we knew from speaking to others that it would be perfect for me. Becky was having a bad day at work and phoned me after lunch in a panic saying she had booked a cruise, leaving on my birthday. The excitement set in before the sudden panic the the dates clashed with the semis and final of the Rugby World Cup. But fear not, Becky had confirmed in advance that they would try and show it on board.
I could write a whole blog about how well suited the ship was for disabled travellers, there were certainly enough on board. Suffice to say it was perfect 2 weeks and went without a hitch including the flight home from Barbados, a debut for Wendy Wheelchair.
Particular highlights were the cabin, which was huge and very accessible, including the balcony and large wet room. Much to my joy the room TVs were showing the rugby so we didn't have to worry about getting up early to get to the bar. Freddie loved the kids club which gave Becky and I time to relax. It was the smoothest crossing the Captain had experienced and Freddie's daily weather and land check while pulling back the curtains had us in stitches. 5 days of not seeing a bird, a boat, or to Freddie's dismay, a blue whale.
There are a few down sides to travelling with MND, all this glorious food and I couldn't really eat much. I must be the only man to come off a cruise and lose weight ! And of course, much of the Caribbean isn't exactly wheelchair friendly so while I could get off the ship at every port, I often couldn't go anywhere beyond. A borrowed manual chair from the ship did let us go exploring in Antigua and let me see my boy swimming in the Caribbean Sea, but the beach is not a comfortable place for someone so immobile.
We were very wary about the flight home and kept our fingers crossed that Wendy made it home in one piece. We had nothing to worry about and to say Freddie was excited about having his own TV in his seat was an understatement. An hour sat on the plane at Gatwick wasn't ideal, but I've become an expert at waiting.
Fundraising
I recently passed the £50k mark for money raised for MND Association, both by TeamCrisp and others in my name. There are too many to mention and some are anonymous but particular thanks go to Louise and Munch from SportRadar, Nicky Skeen who never stops running, my step brother Liam and the crew of the Slipstream and one of my oldest friends Kate. My rugby friends continue to top up the Freddie Fund every time they play and the Egg Chasers are in their second year of fund raising rugby matches.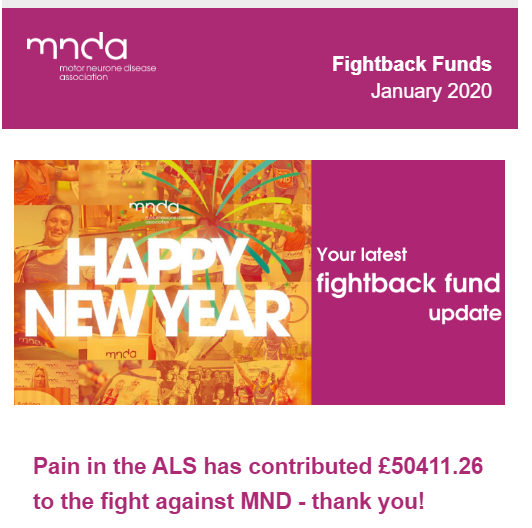 A new, very welcome addition was the introduction of a Freddie Crisp lager at Cheltenham Rugby Club. Freddie receives a percentage of  every pint purchased. We went along to the official launch and tasting with Club Chairman and President Steve Radcliffe and Dave Townsend.
MND Update
My consultant called me an expert patient. I wondered what he meant but it made sense for me to pass my knowledge and experience on to the new MND nurse Lauren, a vital resource for those with MND especially those newly diagnosed. However I now think my consultant had a different meaning. I think he means that I will be one of those unlucky bastards to get everything MND has to offer.
The last few months have seen a small downturn in every facet of my body. Working from the top down.
My breathing has declined. Not to the point that I need assistance but I now become short of breath speaking, eating, in fact doing anything. I am told by my consultant that the diaphragm is fine it's more to do with coordinating the breath with the swallow and not getting the two confused.
When I started this blog I could still eat normal food, small portions and generally no more exciting than chicken. Soon I could only eat soft food and every mouthful was a potential recipe for disaster as it just takes a tiny fragment to stick in my throat or a bit of water to go down the wrong path and hit my lungs and it all comes back out in loud dramatic fashion with plenty of sticky thick phlem. It's horrible for me trying to catch my breath but it is equally nasty for the poor soul looking after me.
About 4 months ago it was clear that I wasn't able to eat enough food by mouth alone, I was topping up with special ' shakes'.  3 months ago we started to blend our meals so I could eat the same as everyone else. 2 months ago we started ordering specialist pureed meals from Wiltshire Farm foods which still is working OK. However at my final check up of the year, we discovered that I had lost 6kg in only 3 months so we finally put the PEG to use and began pumping me with my shakes. Giving me much needed energy and calories and letting me eat the nice things I want like cake !
My speech has now gone and only those who are with me daily can understand my grunts. Fortunately I have my new communication device which has my own voice (or at least a version of ). Now you can have a normal conversation with me if you spend the time listening.
It's safe to say me and sleep are not getting on. The irony is that it's the one thing I  really need but a number of factors keep getting in the way. Selfishly I try to leave it as late as possible, so I am exhausted and drop off. The flip side is that Becky is utterly spent and we still have a 20 minute routine before we hit the bed. I have to lie on my left side because I have trouble with my breathing if I lie on my back. This means my left hip is under a lot of pressure and even though I have a pad under my hip, within an hour or 2 the pain wakes me and I start trying to move to relieve the symptoms. Now here's the kicker. I can't really move on my own. My arm's are not strong enough to move the duvet and my legs don't move enough to help. I desperately try and avoid waking Becky but after about half an hour, by which time my back has started to spasm, I have to call out to Becky to move me.
I am trying to learn to control my breathing when on my back but I never really fall asleep so I end up having to wake Becky again. Here's another kicker. I used to gain some comfort by laying on my right side but recently that has become a no go zone. In addition to the usual pain in my hip and groin from pressure it just hurts at rest. So even though I don't lie on it, at times, the pain is excruciating and needs Becky to wake up again and rub my hip and move me back to the starting position…. and repeat!
Needless to say neither of us is rested but at least I can shut my eyes during the day. My record of moves in one night was 7. Another unexpected kicker and one I've never heard of before. Because I now almost exclusively on my left side, my left ear becomes very sore because I can't lift my head when I move and my ear gets folded over. Now Becky's final flourish before she gets herself ready for bed is to flatten my ear! MND – the gift that keeps on taking.
A new one for me. I have facial fasciculations or twitching all over my body. I don't notice them much unless I use a muscle too much and they get a bit violent. But in the last couple of months they have started to occur on my face. My chin wobbles, my nose twitches like a rabbit and my eye flickers. But unlike the others I feel these and they drive me to distraction because I can't do anything to relieve them. Kind of like having a fly on your face with no way of swatting it off.
My neck has started to become weaker and I struggle to hold my head up unaided, that's why if you see me in my chair you will find me tilted back, allowing gravity to do the hard work. Next on the list of aids will be a neck brace as at times it can become very painful.
Because I'm confined to a wheelchair all done I have started to get compression of the lower spine, which is of course painful. Additionally, my wheelchair which gives me so much independence, can also be my prison as my arm is not strong enough to lift on to my arm rest and I can't move. So if you see me stationery, somewhere strange, lend a hand and lift my arm and hand up.
Other than that,I'm fine. Still smiling, still laughing and if you are prepared to be patient, I can still hold a conversation through my tablet. It's difficult to keep up with the flow in a group, so if you want to keep me involved, try and remember where I am in the conversation. Of course my recorded voice is far from perfect so people end up looking at the screen and most people play a game of guessing what I am going to type next. I'm not mentally impaired so you don't need to talk slowly, just bear with me while I type an answer.  It's perfectly ok to just say hi and carry on, many people avoid me because I assume it's hard work trying to force a conversation. At the end of the day, I'm grateful to be able to engage in any conversation at all, and if you're boring me I can just drive off.
My friends on Crispy Care continue to take turns in looking after me and along with my family provide invaluable support. However the time has come to get paid support for our family and there will be more on that in my next blog post. 2020 has started with a bang so I'll be back soon. Honest !
Thanks for reading – I'll be back soon.