Crispy Care
Despite the obvious I consider myself very lucky. I've travelled the world, been to events many people can only dream of but most of all I am blessed with such loving and caring friends and family, who in my hours of need have really stepped up.
Unlike many with MND I've not had to rely on paid or NHS help (yet), instead there is a Whatsapp group where a few weeks in advance Becky posts the dates where I need someone to 'babysit' me. I don't need much looking after (toilet and feeding me), and I'm often sat at my desk, trying to do some work or editing photos.
It's fortunate that so many of my friends own their own businesses or work from home which means they can spare a whole day or a few hours. Each brings there own 'speciality', whether taking me out for day, cooking a meal for us so Becky doesn't have to worry when she gets home, or breaking up the day with a movie. They are all keen to avoid 'poo day' which now isn't such a problem (but more on that later).
It must be incredibly boring for them, but without them we simply couldn't function as a family. Saying thank you doesn't really cover it, but they should know they mean the world to us.  I also need to thank my own parents and my fabulous in-laws,  without their time also fitted in around Beckys working hours we would be lost.
As I said in my last blog, my bucketlist has taken a back seat for now (apart from trying to stay alive long enough to see the Lions tour in 2 years), our time has been spent sorting the house and garden and making precious memories with Freddie and Becky. Some of those days are below.
Big Wheel 
If you came to Cheltenham around New Year you will have seen the Ferris Wheel in Imperial Gardens. To my surprise they had an accessible carriage. I was bundled in, scooter and all for a few freezing spins, worth every bit of effort to see and hear Freddie's reaction to the ride.
Noah's Ark
Located down towards Bristol, it was a toss up between here and Bristol Zoo. Upon arrival I was distinctly underwhelmed! However within 30 minutes and seeing some animals that were actually awake and moving, my faith was restored. We had lovely family day culminating in the huge indoor play area which was easily Freddie's favourite part.
Cheltenham Festival
I think I've only missed 1 year in the last and I wasn't about to let MND stand in my way. This year I went on Tuesday and Thursday. I made sure to layer up as I'm prone to getting cold very quickly. I also made use of the disabled viewing platform which, quite frankly, was a revelation ! And of course no event for me would be complete without a visit to one of Becky's marquees for a gin and a warm up.
I was lucky enough to be invited to pre-race hospitality at Hunting Butts, (Thanks Sam Hanks ) just across the road from the course – a real  bonus given the rain. Post racing the place is rockin (no G), warm and a great place to recover and count your loses !
Having MND does have it's benefits – my carer, whichever unfortunate soul is on toilet duty, gets a free ticket. On the flip side I now realise that the Guinness Village is no place for a short, sober man on a scooter! Watch out for your ankles … you have been warned
Wales v England
I was lucky to be given accessible tickets to match and took my brother along, which is incredibly good of me as he's an insufferable Liverpool supporter. The day included pre and post hospitality and an overnight stay (thanks as always to Becky and Events International and on this occasion the WRU who sorted the tickets.)
A bit of rocky start in the hotel as it took 3 people 20 mins to get the stair lift  to work  (not  great when you're desperate for a wee) but we soon had a pint in hand. Another benefit of MND is that you get security to bypass all queues and escort you right to your seat.
Post match, as you can imagine, there too many very pissed people to stay on the street – scooters are clearly invisible through beer goggles !
Fred's first Premiership game
Friends James & Karen invited us to join them in a box (keen to ensure Freddie views sport in style ). It's been in diary since the start of the season so we all very excited. We had a great afternoon despite the loss with Freddie flag waving and cheering "Come on Gloucester". We almost had a disastrous start to the afternoon as Freddie's jacket got stuck on my scooter controls and narrowly avoided running several people over and crashed into the entrance doors.
Bluestone
This was our second visit to Bluestone  so we knew the facilities were great. We also had better weather this time which always makes life easier. This trip was  about what we like to call 'Mummy, Daddy, Freddie Day' so activities revolve around him. Ever the Mummies boy the one thing he remembered was getting fish'n' chips!
Hands down the most frustrating thing about life with MND is not being able to play with Freddie. I just have to sit and watch, trying to get involved by offering advice and suggesting adventures but it's not the same and my speech is getting worse a worse and harder for even Freddie to understand.
Freddie & Becky went swimming (because I can't get in ) and I sat watching from the balcony – I noticed a special wheelchair that can be wheeled into the water so we'll try that when we return.
Driving my scooter is hard work but gives me some independence. We went for a wander and decided on a short cut which typically turned into an hour long off-road adventure. Utterly exhausted the bar and ice cream were calling. A quick break before a panto, which Freddie thought was hilarious.
On the Sunday we went for lunch at The Griffin in Dale run by our friends Simon and Sian. In addition to a delicious lunch Freddie got a tour of the kitchen, the office, the cellar and poured a pint at the bar. We stopped at Tenby on the final day and spent some time on the beach which sadly meant more time alone as scooters and beaches do not mix. I wish I could still drive as Becky was shattered, at least I could contribute somehow, but alas that isn't an option any more.
A well deserved holiday to Portugal
Despite my reputation of rivalling Judith Chalmers for holidays, we actually hadn't been away as a family for well over 9 months, and Becky in particular needed a break and I needed some heat and key to the decision was that Freddie wanted to go on a plane. It was a holiday of firsts, and thank the Lord Becky is in logistics !
It was Becky's first trip to Portugal (I worked out, my 7th, but my first where consuming vast amounts of alcohol wasn't a priority!)
The first airport trip in a wheelchair
First time boarding an aircraft via an ambulift
and crucially the first time we've had to really research a hotels suitability for a disabled person.
As ever we took everything in our stride and and we enjoyed a fantastic time together. I'm not so sure Becky felt quite as relaxed as she has to do EVERYTHING with little help. She truly is a warrior, hauling luggage and me and Freddie about in my wheelchair. She is a star and we are incredibly lucky to have her.
Cheltenham RFC Award
I was recently honoured to be awarded Clubman of year at the end of year awards dinner. I have looked after the website for nearly 20 years but have just handed over the reins. Unfortunately we were away (above) so I was presented with the trophy at a  charity match a few weeks later.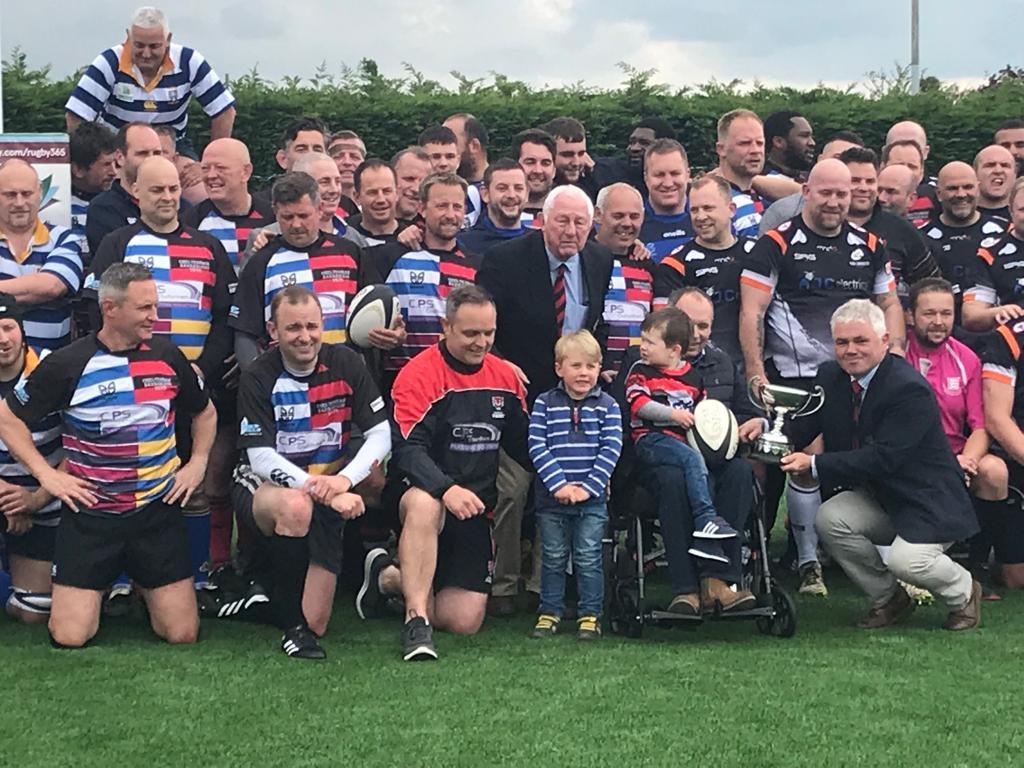 Fundraising 
Our fundraising efforts continue with our golf day later this summer. (Friday 6th September if you fancy entering a team, coming along, donating raffle or auction prizes!) People are also raising money in my name (collected in my MND Association Fight back fund) and the total is now nearly £42,000. A huge congratulations to Steph Carew-Gibbs who ran the London Marathon and raised over £4000 and Tom Lait who walked the Jurassic Coast 100km challenge raising £1300.
People have also raised money for us personally and Freddie specifically. We are hugely indebted to Pete Buxton and the race goers for their generosity and to Jenny Jervis who ran the Brighton marathon.
My rugby family have been out in full force again. A long anticipated vets match was held against the Eggchasers, a charity team set up by an old friend, Andy Jarrett. A large auction raised nearly £2000  for the Freddie Fund (something for Freddie when he's older).
Only a few weeks later, the annual Cheltenham RFC Cricket match was held again at Cheltenham Cricket Club. Since my diagnosis this has become a fundraiser for our family and each year the bar raised higher  – not only by amounts raised but by the level of entertainment the evening brings.  This year the raffle and donations hit £2,000 which will enable us to upgrade our standard car to a wheelchair accessible vehicle.
The cost of living with MND is crippling, particularly now with only one wage, so we are so grateful to everyone who has helped financially, especially our parents, without whom, we'd be in trouble.
MND update
I'm now at roughly 3 years 3 months with MND and in the words of my consultant I'm not progressing as fast as he'd expected. There is still no cure and the research projects around the World that keep getting everyone excited on Facebook are still years from approval despite positive signs. I've long since given up on supplements, aka 'expensive piss' instead I try and keep everything as normal as I can, staying positive, choosing not to spend time and money on experimental treatments, rather following a simple mantra…
Don't count the days… Make the days count 
The last 6 months have seen a small decline everywhere and highlighted the fact, if you don't use it you lose it!
Walking with my rollator more than a few metres was exhausting, fighting my bodies urge to fall over. A weeks holiday being pushed in a wheelchair  and BOOM ! – upon my return home its gone. Unable to even stand confidently with my feet seemingly glued to the floor. Muscle memory and confidence shot to pieces.
Now my only option is to walk hand in hand with my carer, shuffling a few inches at a time. Just moving my feet is difficult. I look down at them and even shout at them, but they just won't budge. But I refuse to give in….
My speech has declined significantly and few people can understand me, even Becky and Freddie struggle sometimes.It's exhausting getting the words out. So here are the rules..
Don't try and guess or anticipate. Just listen carefully and ask me to repeat and if I give up it was probably not worth it anyway
I apologise if I'm rude and get frustrated – in my head it all makes perfect sense
If you're asking me a question, give me only one option to answer before trying another
Don't feed me and then ask me a question (Jenny & Hannah!)
I'm quite happy to sit quietly and listen
I have downloaded my banked voice which is far from perfect but will be better than I have now. I have a device coming soon which will make communication easier BUT as ever, if you don't use it, you lose it, so I have to keep trying to talk for as long as I can.
My hands are a little worse and just using a mouse is really hard. In fact just getting my hand on the mouse can take 5 mins. My wrist occasionally spasms shooting the mouse off target. All that said I am happiest sat at my desk.
When I was first diagnosed my consultant assured me MND was fairly painless, however no one told my hips this. Due to my lack of mobility and constant sitting position, my hips and groin are in constant pain. And while I have regular physio and massage, I am finding MND to be a right pain in the ALS!
It has taken 6 months but I have finally taken delivery of my electric wheelchair. I'm told it's the business and that others will be envious – Sorry not sorry ! Despite being very impressed with my driving, I'm not allowed outside on it yet
Poo Day – Never, I mean never, take the ability to wipe your own arse for granted. At great cost, thanks to grants from My Name'5 Doddie Foundation & MND Association we now have a Gerbrit shower toilet so I can look after myself when I need to go, which incidentally is only every 4 or 5 days.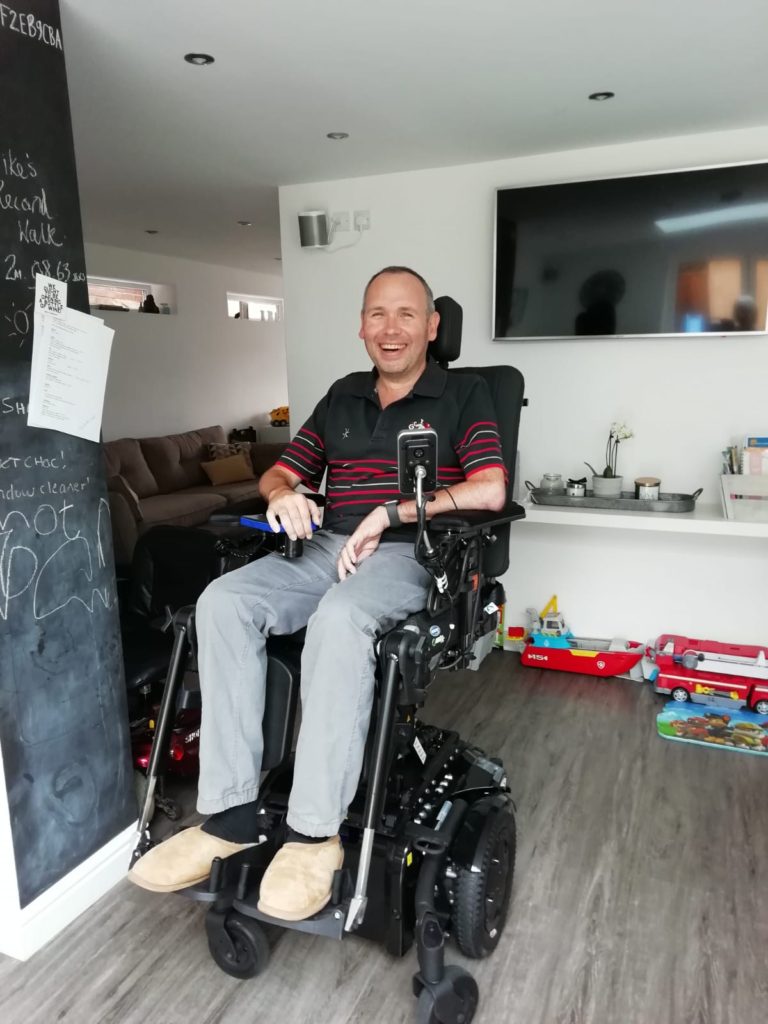 Thanks for reading – I'll be back soon.